Indeed, indecision is the enemy. But do you realize that indecision is actually a decision?
Yes, it's a decision to hold back progress and success, borne out of fear, confusion, and information overload—or what I like to call, Infobesity.
But don't be too hard on yourself. Being indecisive is not a character flaw. It happens to the best of us. Why, it still happens to ME when I drop my guard and get careless!
Indecision happens when we listen to that negative voice in our heads - that monkey mind.
And this is one voice we need to shut out so we can open the veil and allow our intuition to show us the clear path that's right in front of us.
For many years, I have taught countless entrepreneurs how to leverage their inherent skill of business intuition—BIZTUITION—in order to become powerful, influential, and successful leaders in their space. And one of the most important—if not, THE most important—traits that they have cultivated in the process is the Decisiveness that allows them to make important business decisions day in and day out.
And so I have created this Decision-Making Audio Guide to take you on that same deceive and powerful path... and more importantly, to keep you in alignment with your higher self.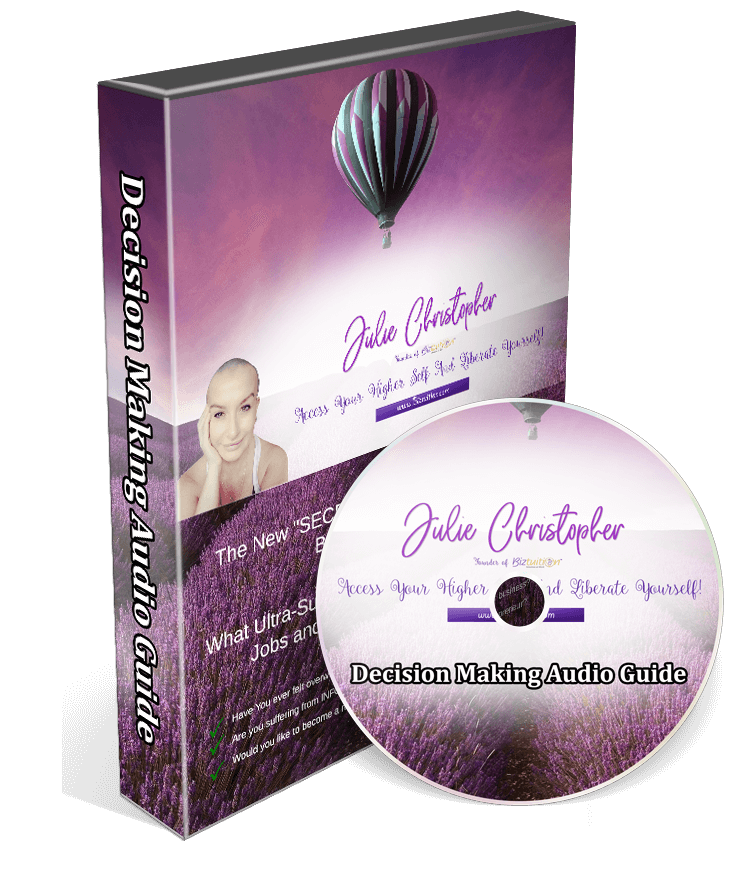 Your higher self has all the answers at all times…We just need to get out of our head and back to our heart. The way in is the way out.
But be warned—your journey to better decision-making will need some inner work. This is because Biztuition is a muscle that needs constant practice and awareness for it to become stronger and obvious.
Simply put—to be more decisive, you need to do the work. And it's a never-ending process. You will always be on the verge of awakening . . . but trust me when I say that this will open the doorway to your own pure knowledge and guidance in all areas of your life.
Another thing you must know is that this Decision-Making Audio Guide is multidimensional. You will become a better decision-maker in a very organic way.
---
It's Non-Linear
So there's really no step-by-step process here. All it demands are an openness to receive with an open mind and a burning desire to be in alignment with your truth!

Indeed, this is an intangible and priceless business investment that every entrepreneur needs to have in his/her arsenal. Wouldn't you like to have it in yours? For the highest good.